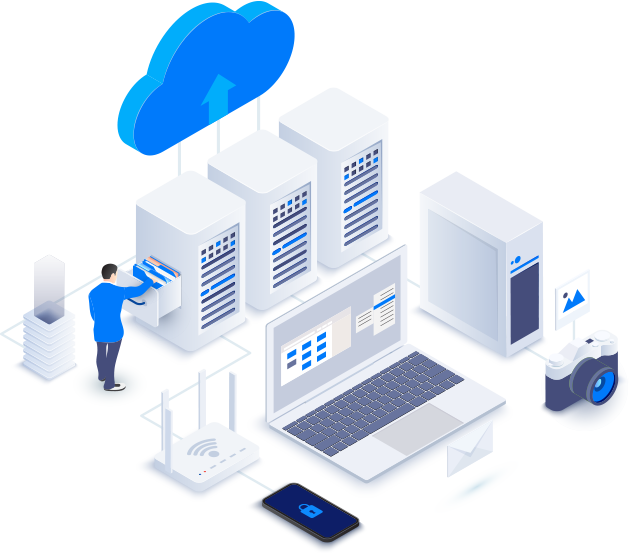 About Us
Techcity Private Cloud
Techcity Private Cloud with the built-in web interface you can easily manage VMs and containers, software-defined storage and networking, high-availability clustering, and multiple out-of-the-box tools on a single solution.
Techcity Private Cloud Features
KVM & Container
Management
HA Cluster
Networking
Storage
Backup
Firewall
KVM & Container
Server Virtualization
Techcity Cloud Virtual Environment is based on Debian GNU/Linux and uses a custom Linux Kernel.
Using Techcity Cloud software guarantees full access to all functionality, as well as a high level of reliability and security. 
Read more about the Proxmox technology
---
Kernel-based Virtual Machine (KVM)
KVM is the industry-leading Linux virtualization technology for full virtualization. It's a kernel module, that's merged into the mainline Linux kernel, and it runs with near-native performance on all x86 hardware with virtualization support—either Intel VT-x or AMD-V.

With KVM you can run both Windows and Linux in virtual machines (VMs), where each VM has private, virtualized hardware: a network card, disk, graphics adapter, etc. Running several applications in VMs on a single system, enables you to save power and reduce costs, while at the same time, giving you the flexibility to build an agile and scalable software-defined data center, that meets your business demands.

Techcity Cloud has included KVM support since the beginning of the project.
---
Container-based Virtualization
Container-based virtualization technology is a lightweight alternative to full machine virtualization, because it shares the host system's kernel.
Linux Containers (LXC)
LXC is an operating-system-level virtualization environment for running multiple, isolated Linux systems on a single Linux control host. LXC works as a userspace interface for the Linux kernel containment features. Users can easily create and manage system or application containers with a powerful API and simple tools.
Management
HA Cluster
Networking
Storage
Backup
Firewall
Process
Quy trình cung cấp Private Cloud

Liên hệ với Techcity để nhận tư vấn
Techcity với những chuyên gia hàng đầu nhiều năm kinh nghiệm triển khai và vận hành các hệ thống Public Cloud cũng như Private Cloud sẵn sàng hỗ trợ tư vấn giúp doanh nghiệp có hệ thống CNTT an toàn, bảo mật, ổn định.. phục vụ kinh doanh sản xuất
Transforming the design process At
Trải nghiệm Techcity Cloud
Trải nghiệm Techcity Public Cloud với hiệu năng cao, an toàn – bảo mật và ổn định!
Yêu cầu tư vấn!
Đội ngũ chuyên gia của Techcity sẵn sàng hỗ trợ tư vấn cho doanh nghiệp!